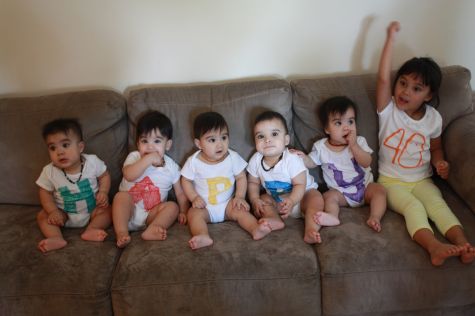 About GRACE plus One
Welcome to our Support Team!! The Ferraro Quints (GRACE) plus One (Gianna) really appreciate your love and support. Mom and Dad can't do it alone and we are really relying on God's Grace to help us raise our wonderful children. Thank you in advance for the huge blessing you all are in our lives!!
Here are some of the ways you can help.
1. CHILDCARE - Sign up for some shifts in the Calendar Section to help with childcare, feeding the babies, and light housework.
(Flu and Tdap shots required until April 2013 for childcare)

2. MEALS Sign up to bring a meal at www.takethemameal.com (Recipient name = Ferraro, Password = 1236)
3. HANDYMAN TASKS - Contact John at socalquints@gmail.com if you would like to help with handyman tasks, construction, or yard work. I will forward you a list of projects I have on the To Do list to see if any interests you.
4. FINANCIAL GIFTS - Give a financial gift to help with rising food, clothing, and childcare expenses. You can donate directly to the Ferraros by clicking the "Donate Now" tab on www.graceplusone.com or you can mail a check or gift card to PO Box 6162, Fullerton, CA 92834.
5. COMMUNICATION - If you would like to help write letters or pass out flyers to ask for financial or supply donations to companies, community groups, or even the local radio/TV outlets, we would welcome the help reaching out and get ting the word out to the community. Please reach out if you have any questions or are interested.
6. FUNDRAISER - Start a fundraiser or supply drive at your work, with your friends, on social media, in your community, etc. I can supply a flyer with pictures of the babies to help with your event if you like.
7. MISC - If you can think of other ways you can help, please feel free to reach out to us at socalquints@gmail.com with any ideas. We really appreciate the support and the friendships we are forming with our volunteers. Thank you to everyone who is able and willing to partner with us along the way.